Walk Towards Your Fears
by Esther Zimmer
I cinched my backpack tighter and dug my toes in, the hill was steep and my quads groaned. Sweat trickled between my breasts and I briefly turned my face towards the sun. I 'd hoped for dry conditions and been treated to a deep blue sky.
Just as I reached the summit, my stomach growled. I'd broken camp an hour earlier and decided to hike the first hill before I ate, anticipating gorgeous views. I wasn't disappointed. An inky blue ocean crashed against the rocks below, stunning Devon countryside greeted me as I turned my gaze to the left. Removing my pack, I sat down for breakfast.
In less than 24 hours the way I felt about myself had changed.
I'd come to hike a section of the South West Coast Path alone, and not just hike it, but to camp out for three nights in a tiny tent I'd borrowed from a friend.
This wasn't a physical challenge; it was a mental one. My way of facing a fear that was a result of a close encounter in my childhood, an experience that had left me fearful of being alone at night anywhere other than in big cities with bright lights.
A fear I'd pushed so deep inside me I'd almost forgotten why it existed. Yet it shaped the way I saw myself and thus, had shaped my life. Once I became aware of it, I'd become angry that another person's actions continued to have an impact more than three decades later.

So, I decided to write a new story for myself. The night before I'd pitched my tent in the dark and rather than lying awake petrified, I told myself it was fine to feel afraid, but I was safe on my own.
I discovered I relished the solitude.
Breakfast finished, I stood, hoisted my pack onto my back and headed south.
48 Hours later and I've found a hidden cove. I'm not ready to return to London, not yet. I loved the simplicity of life on the trail and felt myself expand in ways I could never have anticipated. The wind had spooked me on the second night, a reminder that the point isn't to get over fear but to face it. I'd risen in the night, heart in mouth, to check various pegs and strings and experienced the euphoria that comes from doing what you think you absolutely cannot.
So often fear is seen as a negative, yet the more I face my own the more I see it as a positive - not a boundary, but an opening. An opportunity to question everything you believe to be true and then be willing to change your story.
I felt the urge to celebrate, stripped quickly and ran towards the ocean, the smooth rocks slippery beneath my feet; I raised my arms and whooped with delight.
Above me, birds circled and cried out, their approval ringing in my ears.
The South West Coastal Path is England's longest waymarked long-distance footpath and a National Trail. It's 630 miles long and runs from Minehead in Somerset to the shores of Poole Harbour in Dorset.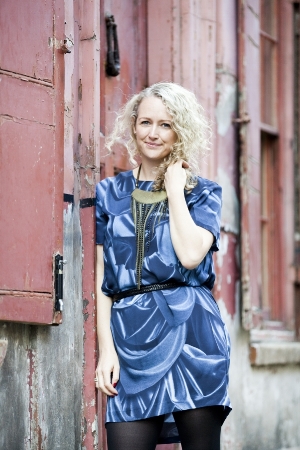 Esther is an Australian writer, artist and lifestyle coach based in London.
Website: www.estherzimmer.com
Jo Macdonald